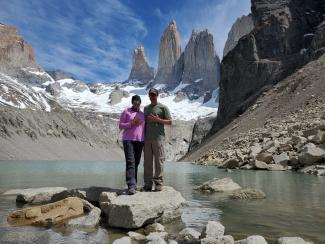 Stop and smell the roses!
Our main focus as fiduciary advisors is understanding our clients' goals and providing objective advice to achieve these goals.  We start with a focus on financial goals both short and long term.  We often hear pay down debt, build cash savings, save for college, save for retirement, and I need estate documents.  In the course of constructing a financial plan, we really get to know our clients and often uncover personal goals which will cross paths with their financial goals.
This intersection happened to me personally in 2019.  My wife, Laura, and I hit 10 years of marriage in August 2019.  On our 9th anniversary we reviewed and discussed our own financial plan and made sure we were hitting our financial goals so we could concentrate on our personal goal of more international travel.  To Laura's credit, her goal is to visit all 7 continents.  I am coming around to this goal and think it would be extremely fun to accomplish this goal together. 
We both share a passion for hiking and decided on South America…specifically Patagonia with a focus on National Parks within Argentina and Chile!  I researched a few trip planners and settled on two different National Parks and one big glacier and put together our itinerary months in advance.  Our stops included one night in Buenos Aires, 3 nights in El Chalten (Argentina), 2 nights in El Calafate to see the Perito Moreno Glacier (Argentina), and 3 nights in Torres del Paine (Chile).
As you can see from the pictures the scenery was beautiful and the hikes were challenging!  We had a BLAST and really enjoyed this hiking adventure throughout Patagonia.  In total we hiked just over 100 km (60 miles) with a few bumps, bruises, blisters, and unforgettable memories.  This trip would not have been possible without the grandparents on both sides to watch over our kids, the staff at www.adventure-life.com, and our hiking guides in all 3 parks.  Credit to Liz Clough and her blog post on trip insurance.  We encountered a missed bus transfer in Torres del Paine and incurred some extra expenses (working to get reimbursed) to link back up with our original itinerary to get home.
When you meet with an advisor here at RPJ we will ask you about your goals in your first meeting.  We will write them down and begin working to help you achieve those goals.  Over time we will re-visit these goals and celebrate with you when they are achieved.  Don't forget to stop and smell the roses along the way!