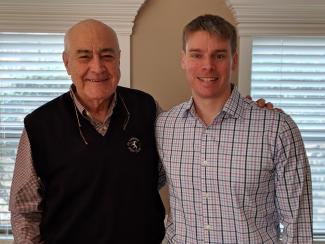 Reflections by Don Rembert
I've had the pleasure of working with Don for nearly 15 years.  I hope you enjoy learning more about how our firm was created and the mission to go fee-only.
Don, what prompted you get into the financial services business in 1974?
Early in my career I started out in the Army and retired as a First Lieutenant.  After the Army I went to work in the Bell system.  In 1968, I started building and managing restaurants in the DC metro area.  This line of work was taxing and time consuming, but one of the greatest experiences I have had in money management.  As a business owner I found it tough to get business consulting advice (accounting, cash flow management, etc.).  I saw the need to get into the financial services industry with an initial focus to help other small business owners.  Fred Dilkes, Kenny Gill, and I started the company in 1974.  Fred and Kenny left in 1979 to pursue teaching and outside business interests.  I loved the financial services business and saw the untapped potential and kept it going.
We are witnessing a large migration from the broker world to the fee-only world in the last 10 years.  What was behind your decision to go fee-only back in 1983, well ahead of the curve?
I wanted to be on the same side of the table as the client representing their best interests.  I didn't like the model of working for a corporate entity where we were agents acting in the best of interests of the entity.  We notified the Securities and Exchange Commission in 1983 of our plan to go fee-only.  That plan included rebating all commissions and trails we earned back to the client, while we charged a management fee.
Note – a custodian did not exist to service a fee-only advisor until Charles Schwab created the platform in 1987.
What does it mean to be a fiduciary and should all advisors be held to this standard?
A fiduciary means you are placing the clients' interests first.  This followed the ruling of SEC vs. Capital Gains Research Bureau, Inc. which was settled by the Supreme Court in 1963.  The Supreme Court ruled that if you hold yourself out as a financial advisor you are, by definition, a fiduciary.  This concept has been battled by the brokerage firms ever since.
Yes, I believe all financial advisors should be held to a fiduciary standard.  This standard is for the advisor's protection along with the investing public's protection.
What has been one of your most interesting client cases over the years?
I found great interest working with a family that owned a significant portion of a regional bank.  In 1987, I helped to successfully sell the bank and establish an estate plan with, in my opinion, one of the finest Estate Attorneys in the country.  After the bank was sold, I worked with the family members as individual planning clients on reaching their financial goals and continue to do so today.  
Back in 1974 could you foresee the business as it has evolved in 2018?
Never in my wildest dreams did I think we would help individuals, families, small business owners and non-profits manage over 1 Billion in investments[1]. This business has been built on treating the client the right way.  In turn, our clients refer their family, friends, and colleagues.
The success of RPJ can be attributed to bringing on the right employees. This made our Team Concept a reality and created the right foundation. We have been diligent in our planning for the future with the right systems and succession plan in place. 
Where do you see our profession in 20 years?
The profession is heading towards embracing the Fiduciary Standard with the investing public seeking out advisors who hold and maintain these credentials.
It has been a real privilege to work for and alongside a pioneer in the financial services industry like Don Rembert.  I want to thank him for taking the time out of his day to reflect on his past and share some of his experiences over the years.  Here at RPJ we take great pride in being fee-only and embrace our role as Fiduciaries.