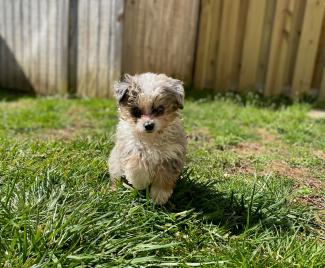 Protect Your Furry Loved One (and your wallet)
My wife and I recently made a trip out to Ohio to pick up the most precious little Aussiedoodle puppy. As puppies typically do, he stole our hearts and quickly became a member of the family. After hearing from a colleague who made the mistake of waiting a bit too long to decide on pet insurance, thereby ending up with a huge veterinarian bill after his puppy suffered an accident, I made the effort to research and choose a pet insurance provider the very next day. Puppies are inherently curious and daring yet fragile little risk takers, creating the perfect storm for accidents and the associated potentially costly veterinarian bills.
Pet insurance is technically categorized as property and casualty insurance yet functions effectively as health insurance. There are many commonalities between pet insurance and its counterpart for humans. I will go over some of the ways they are similar and give a brief overview of the types of available plans and coverage.
Premiums for pet insurance will vary based on factors such as age, breed, and zip code. The actual cost of coverage can be customized by choosing your deductible, coinsurance, and annual maximums. The choice of deductible will typically range from as high as $1,000 to as little as $100. The choice of co-insurance typically ranges from 70% to 90%. The choice of annual maximums will vary by provider. Most of the pet insurance websites I researched allowed one to calculate the actual premium for their pet using these three factors. The proper amount of coverage will depend upon how much one is willing to spend in the event of an emergency and in some cases coverage can be customized to resemble catastrophic care. When customizing coverage, you should be aware that premiums will increase with age. Premiums for feline coverage are about half of what one will pay for canine coverage.
One difference between health insurance for pets and human health insurance is found in the claims process. Unlike human health insurance, where doctors will file claims then send the patient a bill, pet insurance requires the owner to pay for the procedures then submit the claim themselves. This factor should be noted as you will initially need to pay out of pocket to cover veterinary bills prior to reimbursement. The creation of an emergency fund or a dedicated high limit credit card can be used to bridge this gap. Because of the reimbursement structure, claims can be made at just about any veterinarian practice or facility. Some providers offer conveniences such as smartphone apps where claims can be made as easily as taking a picture.
Pet insurance policies can be categorized into four main types:
Accident only coverage – This type of policy will cover only accidents such as broken bones, cuts, scratches, and the sort. It is the most basic and minimalistic type of policy available.

Accident and illness coverage – This type of policy includes coverage for unexpected illnesses such as cancer, skin conditions, and the like, in addition to any accidents.

Comprehensive coverage – This is the Cadillac of pet insurance policies and covers a vast majority of vet bills one may encounter such as preventative health treatments, vaccinations, medications, and even services such as micro-chipping or acupuncture. Be aware that the wider range of coverage does come with a hefty price tag.

Pet wellness coverage – This type will cover typical routine vet bills such as check-up visits, medications not related to an accident or illness, and run of the mill treatments not covered under the rest of the plans. This is typically available as a separate policy or as an additional rider which can be added to one's underlying policy.
Choosing the right plan and coverage will take some research as differences in similar plans across different providers can vary greatly. You should take the time to complete your due diligence and obtain sample policies from different providers to ensure you are picking the right provider for your pet's needs. One of the biggest exclusions and the most common reason for the denial of claims is pre-existing conditions. After obtaining coverage on your pet, it is prudent to provide the insurer a list of your pet's medical history to see what may be considered an exclusion. Other common exclusions include congenital disorders, hereditary disorders and routine care - unless a separate policy or rider is purchased. All plans will include waiting periods which can be up to fourteen days so getting your pet covered sooner than later is advisable. Some policies include lifetime limits which is another factor to take into account when choosing the right provider.
For most pet owners like myself, their dogs and cats become more than just an animal but an irreplaceable part of the family. Veterinarian bills for illness and accidents have the potential to be devastating on finances, leaving tough decisions for owners. When costly accidents and illness do happen, the decision between a pet's life and high medical bills is unthinkable. By protecting your pet with insurance, you can be sure this is a decision you will never have to make.
Sources:
The Best Pet Insurance 2021 – Forbes
The Veterinarian's Perspective on Pet Insurance – Investopedia
This information is intended to be educational in nature, and not as a recommendation of any particular strategy, approach, product or concept. Certain information contained herein was derived from third party sources as indicated. While the information presented herein is believed to be reliable, no representation or warranty is made concerning the accuracy of any information presented. We have not and will not independently verify this information. Where such sources include opinions and projections, such opinions and projections should be ascribed only to the applicable third party source and not to Rembert Pendleton Jackson.